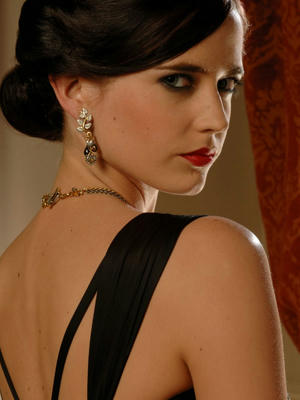 FELICITY LOCKHART
The Basic Information
Human Assimilated Name:
Felicity Lockhart
Adveni Name:
Chia Zserenci
Age:
33 years old
Birthday:
September 20, 1981
Registration Number:
AAG812T463
Occupation:
Adveni Internal Investigation agent
Level of Education:
Agrah basic training
Some Tsevstakre training
Linguistics
Father:
Doxus Zserenci, agrah soldier
Mother:
Yvika Turook, agrah team leader
Children:
None at the moment
Siblings:
Lireek Zserenci, 26 yrs
Height:
5'6
Hair Colour:
Brown
Eye Colour:
Blue
Nsiloq Tattoo:
Blue/green
Playby:
Eva Green
Likes and Dislikes:
- A big fan of cats
- Instrumental music
- Being treated to something nice
- James, her drysta
- Her job in the A.I.I
- People who solely bitch and moan
- People making up excuses
- Coffee without milk, it's disgusting
- Really strong accents
Strengths and Weaknesses:
A lot of Felicity's strengths entwines with her work. She knows the importance of being on time and that keeping things organized ultimately saves a lot of time. She's a hard worker and as she hates being wrong she always makes an effort to get things right the first time around. However, she is not open to learn from others. She doesn't always think her way is the best way but she always makes it work, one way or another, so she sees no need to look to others for guidance. Another weakness of hers is that she's a sucker for gratification, preferably instant.
While most people find Felicity easy to open up to because she's not as judgemental as most, she lives a very superficial life. She rarely invests herself in her personal life and likes putting work first. What makes her a good agent is that she never lets the circumstances sway her. She's indifferent and won't take sides. A traitor is a traitor no matter what or who they are to her, or to anybody else. She'd turn on a friend, a lover or her own blood if she had to. Personally Felicity considers her low tolerance for pain one of her biggest weaknesses.
General Personality:
All Adveni are raised to be proud of who they are and in that regard Felicity is no different. She is proud but not arrogant. In her line of work she feels it is best to be balanced. Arrogance, she's found, leads to a quick downfall. Being the best she can be motivates her, and she thrives in being part of the A.I.I where she can push herself all the while protecting the Adveni way by rooting out the weak.
Work is a big part of who Felicity is but there's more to her than that. She rarely pursues anything beyond superficial relations to other people because she doesn't like the way it leaves her feeling vulnerable. By restricting herself to a small circle of aquaintances Felicity is prone to become jealous and it's not unusual for her to become a little posessive. That said, she's not a bad person per se. When she's in a good mood it's not uncommon for her to offer small gestures or words of affection.
Thoughts on Earth:
It's not Ovtenlaist. She tries not to compare the two too much but from time to time she does miss her home. Aside from that she's tried her best to relax and enjoy her time on Earth. What irks her the most would be the wildlife. Oh, and the insects! Ekh!
Thoughts on Humans:
For starters, she's tired of hearing how everybody thinks they're so similar to the humans and vice versa. As far as Felicity is concerned they are two very different species, and should respectfully be treated as such, despite the similarities of their physical appearance.
Felicity was the firstborn child between Doxus and Yvika who'd been paired through tletonise. Both her and her younger brother Lireek were raised by their father who taught them the importance of loyalty, and that they were to be proud of their heritage. After Felicity decided to go down the same path as her parents and become part of the agrah she left her home to move in with five other young Adveni with the same intention. Taking her Nsiloq at the age of eighteen she struggled to reach blue with a smidge of green and once she had she proceeded with her training.
Once her training finished, Felicity was assigned to a unit where she worked twice as hard as her team, always making sure to put in an extra effort. After a couple of years her hard work paid off. With the blessing of her superior she was put into the Tsevstakre program. This quickly became one of the most stressful periods in Felicity's life as she decided to pick up extra classes in linguistics. Half-way through it she was brought aside by one of her teachers who informed her that she'd been singled out as a candidate to be sent to Earth.
With that, Felicity's training was put on halt.
In the span of two years she learned their language and forged herself an identity. Picking the name Felicity Lockhart she was sent to Earth at the age of twenty eight. Felicity spent the following year establishing a life in Washington DC, the city to which she'd been assigned where she spent her time gathering intel in the linguistic department of the FBI.
It was through work that she got in touch with James Harper-Flynn, a man she knew that her superiors had made a point of interest before she'd been sent in. Upon approaching him the two connected. What started out as a couple of innocent dates eventually grew into a stable relationship and after a year together she moved in with him. Although Felicity grew fond of the man and enjoyed waking up next to him in the mornings, she never lost sight of why she was there in the first place.
The very day the invasion started Felicity took James in before proceeding to help with taking down the humans primary defenses and once the war ended she made sure to claim her reward. Claiming James as her drysta and moving into a nice home in Chicago. Once the dust began to settle she was approached by a man named Ylehksi who recruited her into the A.I.I. She's been working for him ever since and only recently arrived in Adlai together with James.
----------
The Human behind the Adveni
Name:
Cizzler
Gender:
Knock knock
Age:
Who's there?
How you found us:
Hatch
Any Previous Characters:
Hatch, who?
BLESS YOU!