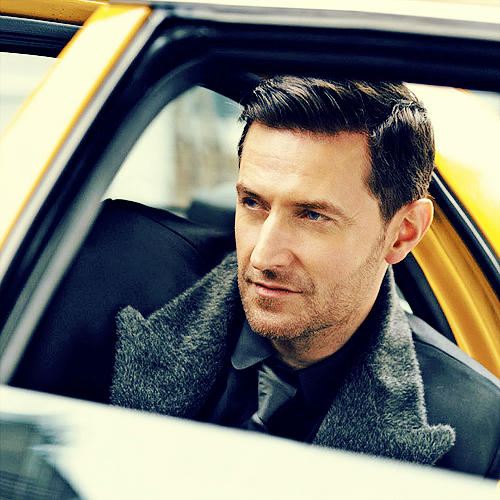 ADRIAN DALE
The Basic Information
Human Assimilated Name:
Adrian Dale
Adveni Name:
Zaicus Makze
Age:
37 years old
Birthday:
January 3
Registration Number:
ATS771T681
Occupation:
Zselket's owner
Level of Education:
Expert at hand-to-hand
Specialized in interrogation as a Tsevstakre
Former Tzelik engineer
Father:
Itze Makze
Mother:
Netma Itze Miyn
Children:
A son and a daughter - twins, 7 yrs old
Siblings:
Four of them in total
Height:
6'2
Hair Colour:
Dark
Eye Colour:
Blue
Nsiloq Tattoo:
Green
Playby:
Richard Armitage
Likes and Dislikes:
- Women
- Good liquor
- Engineering
- Sparring
- Being successful
- Dogs: owns 3
- Humans in general
- The Volsonnar
- Extreme weather
- Cold dinner
- Lack of sleep
Strengths and Weaknesses:
- Not afraid of doing what needs to be done
- Always makes sure to plan ahead
- An expert at hand-to-hand
- Takes responsibilities for his mistakes
- Physically weaker in his right arm
- Not really known for "joking" around
- Believes in 'an eye for an eye'
- Enough liquor tends to loosen his tongue
General Personality:
Adrian is the kind of guy most would be wise to stay on good terms with. He's never been afraid to do what needs to be done and has no trouble getting his hands dirty if the situation calls for it. He doesn't do jokes, and he doesn't deliver many smiles. Never have. When he threatens you, he'll go through with it. Adrian has never been much of a people person but he knows how to sell an idea and how to expand a business. While things may not always go the way Adrian wants to you will never hear him whine about it. He's not that kind of person, nor does he have any anger issues. He's calm, collected and calculating. That said, there are certain things that get to him and he very much believes in the idea of 'an eye for an eye'. There are some things that separate Adrian from other Adveni and one of those things are that he doesn't like the current Volsonnar, an opinion that he's not hiding.
Thoughts on Earth:
It's a beautiful enough planet. Not like it once was, but they're slowly fixing that. Whenever he needs a moment for himself to think, he'll go out on a long walk through the city: maybe find a rooftop or someplace where he can be left alone.
Thoughts on Humans:
They have their use and while he feels like his kin is using the humans in the wrong way sometimes, he has no problem standing by and watching as they get violated and beaten. To him, it only seems fair as they won the war and thus are greater than the humans and stand above them.
Adrian was the second child of Itze and Netma, and was born through natural means. His parents were never really in love but they understood the importance of keeping their lineage alive and so they had a total of five children. At an early age, his father started to invest a lot of time in him and his education. More than what was acceptable amongst their kin. To Adrian, that never really mattered. He simply enjoyed spending time with his father and was happy to be given the chance to learn from the one person he looked up to and admired.
At the age of 12, Adrian and his family was given the opportunity to have dinner with the Volsonnar himself. His father, being a Tsevstakre, was in the same age class as the leader of their and thus had the privilege to call him a friend. It was the first time he met Nautria Teskant. The second time happened around the same time as his father was accused for being a traitor that conspired to become the Volsonnar instead of Nautria. Adrian knows nothing of what inspired this idea but believes completely and fully that his father was innocent, despite their leader suggesting different, and thus killed for no reason. He's hated Nautria ever since.
Adrian was 14 at the time.
Growing up with a deeprooted resentment for the Volsonnar, Adrian did everything he could to excel at what he did. He started out as a young engineer at one of the Tzelik at the age of 20, shortly after getting his Nsiloq and suffering all the way through to green - getting the same design as his father. It was not the only thing he took after. Aiming to become a Tsevstakre, Adrian continued his struggle to achieve his goal. Eventually he became an expert at hand-to-hand and after being asked to instruct classes, he accepted. He was tired of doing the same thing day after day.
It wasn't until Adrian reached the age of 33 that he was able to become a Tsevstakre. While it had taken him a long time, he was more than ready for the task at hand. After being ordered to infiltrate Earth, he was sent to the United States where he infiltrated the life of the Secretary of Defence by dating his daughter. He never knew what happened to her after the invasion took place. His job was to kill the Secretary but rather than doing so, he faltered for a brief moment and let the memories of his own father get in his way. Rather than kill the Secretary and his family, he let them get away.
Due to his supposed failure to deliver, Adrian was not amongst those who earned fame and fortune in the war. Doing nothing more than what was asked of him, Adrian retreated to Adlai. He spent his time going back to what he knew: helping to train the new recruits in the city as well as keeping their soldiers in shape. When the opportunity to buy Zselket's came, he didn't hesitate for a moment. It was a spur of the moment kind of thing. Again, Adrian found himself bored of doing the same thing day after day and so he wanted to take on a different challenge. As Zselket's, and its history, was no stranger to him he thought it would be perfect.
And here we are.
QUOTE
No, PLEASE, halp me, please! Pleeeeease!
----------
The Human behind the Adveni
Name:
Ciiiiiiizzler
Gender:
Mostly male, but some fem, too!
Age:
I'm an oldie, kind of, in character years!
How you found us:
*cries* Touched me here and here and here
Any Previous Characters:
The pain, I can't!