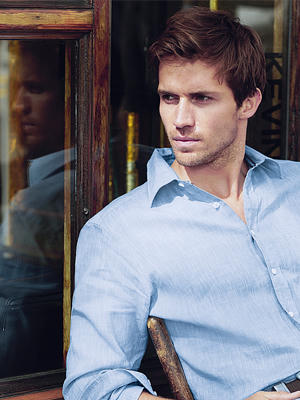 SEBASTIAN O'KELLE
The Human Registry
Name:
Sebastian O'Kelle
Age:
30 yrs
Birthday:
December 31
Prior Occupation:
Intern at a law-firm in Washington
Current Status:
Unregistered and in-hiding
Registration Number:
Not registered
Level of Education:
Degree from Harvard in law and astronomy as well as basic military training, specializing as a medic.
Father:
Jonathan O'Kelle, deceased
Mother:
Cecile O'Kelle, deceased
Children:
None as of yet
Siblings:
Gabrielle O'Kelle, deceased
Height:
6'1
Hair Colour:
Light brown
Eye Colour:
Blue
Playby:
Andrew Cooper
Likes and Dislikes:
✖ baseball and basketball (watch)
✖ creativity and effort
✖ swimming in the ocean/a lake
✖ books: Stephen King
✖ junk food: pizza
✖ learning new languages
✖ special treatment
✖ the adveni
✖ humidity
✖ all kinds of meat
✖ reptiles and snakes
✖ negative attitudes
Strengths and Weaknesses:
✖ easy to get along with
✖ appreciative of beauty
✖ finishes what he starts
✖ hard to anger and provoke, for most of the time
✖ loves kids and animals
✖ a good listener
✖ distrustful and defensive to all
✖ makes decisions based on feelings
✖ holds back affection and the like
✖ at times self-deprecating
✖ expects too much of himself
✖ doesn't give second chances
General Personality:
Sebastian isn't one of those guys who goes around and befriends each and every person he sees. Being the son of the executed president Jonathan O'Kelle he's learned that people are not to be trusted and that it's best to stay invisible. As his face is known and his name still amongst the top three on the most wanted list, expect nothing less but a defensive attitude if you approach him. He's already been burned too many times to trust anyone, even his own people. As a result he has a hard time showing affection towards people. He really doesn't like the idea of exposing himself like that as it's proven to hurt, a lot, in the past.
If you manage to get past his shell you'll quickly notice that Sebastian is just a regular guy. He's easy to get along with and a good friend. Gain his trust and he won't betray you, but betray him and he won't hand you any second chances. Not for a long time.
Because of the position Sebastian is in people expect a lot from him. And he, in turn, does as well. Most of the time he can't live up to the high standards he sets for himself and this is a very sensitive topic for him. He hates letting people down and to know that there are still some out there who count on him only makes it harder. Though he acts like a confident person in public he's struggling, every day, trying to figure out who he is and what to do. Because Sebastian is such an emotional person his decisions are often based on his feelings rather than thought. He's taken a lot of stupid decisions in the past and he's yet to learn from them.
Though upsetting Sebastian isn't hard to do, he rarely gets truly angry. He prefers to parley with words rather than using his fists. One thing most people appreciate is that he's a good listener. He'll hear what you have to say and unless he's riled up he always listens to other people's opinions. Another thing you can count on is for Sebastian to keep his word. When he starts something he won't stop until he finishes it.
Are you a Sect Member:
No
If you answered 'Yes' to the previous question, please answer the next two questions, if you answered 'No', please continue to the next section.
Name of Sect:Rank/Position:
Sebastian was the first and only son in the O'Kelle family. His life was always easy, and most of what he wanted was served to him one way or another. His mother was a caring woman and his father resolute and charismatic. He inherited their ambitions at an early age and at a young age he started playing tennis. After a few years he went professional, as professional as a teen could go, but after an injury he was forced to retire. With one less option to go with Sebastian dove into his studies. Working hard he came out at the top of his class in each and every subject which allowed him to study at Harvard University. He chose to major in law as he wanted to become a lawyer.
In 2007 his father, already a renowned politician, ran for president and won the election. It was the first, rather dramatic, change in Sebastian's life that he had to adapt to. Getting used to the fame that came with his father being the President of The United States was difficult, but despite the distraction Sebastian was able to graduate from Harvard. Shortly afterwards he decided to join up with the army, much to his father's dismay. He trained to become a medic and spent two years in the field before returning back home with the intention of finishing his studies and become a fully fledged lawyer.
Sebastian was interning at a law-firm by the time the Adveni revealed themselves. After seeing his entire family killed in live television he packed the essentials and made a run for it. Slipping through the invaders fingers he travelled through the country, making his way over to Europe where he stayed for a year and a half before heading back home again. Making his way through the country, so different from what he'd remembered, he was cornered by an Adveni hunter. He spent almost a week as her captive and only just managed to give her the slip before she could turn him in.
Sebastian slipped into the city closest to their location which happened to be Adlai. After some time he managed to find an apartment to stay in and by keeping his head down he was able to live there for some time. It is only recently that his presence in the city has become known to the citizens and the government of Adlai. He was forced to ditch the apartment when he spotted a small group of people breaking into it after returning home after scavenging for food. Growing more wary he decided to stick to the outskirts of the city, knowing that Adveni and humans alike are keen on collecting the bounty set on his head.
Update
: Upon visiting Javeknell Square on the day of his father's birthday, Sebastian ran into his father's old aid Charles Compton, a man who turns out to be Adveni. He somehow lucks out and manages to evade capture. He also meets up with Kennedy Beckley, the girl his father had insisted he marry back in the day. Before long Sebastian finds that living out on the street by himself is too risky and after nearly getting caught by a small group of people (race unknown) he bumps into a member of the Eighth Army and after meeting their marshal, Beck Casey, he decides to join them.
----------
The Human behind the Human
Name:
Ciz
Gender:
Female
Age:
20 yrs
How you found us:
Well, you know...
Any Previous Characters:
9 more!